About Ferris' Grill and Garden Patio
History
Ferris' Oyster Bar & Grill opened its doors on the 4th of February, 1991. Its original name was Ferris' Oyster and Burger Bar Restaurant. This name embodied the simplicity of the early menu: a focus on oysters and simple grill food. Although this proved to be popular, it was soon discovered that that was not enough. Ferris' menu has greatly expanded and consequently, a name change seemed appropriate. Today, Ferris' Grill & Garden patio (as the main floor is called), features a diverse array of fine foods, ranging from burgers, to pastas & fresh seafood, and of course, oysters!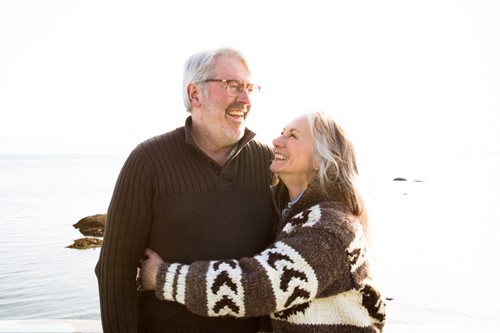 Tom Ferris 19

56-20

19

Tom was born in Toronto, Ontario January 23, 1956.  He graduated from William Lyon Mackenzie Collegiate Institute in 1975.  He attended the University of Toronto to pursue a Bachelor Degree in History but law also grabbed his attention.  He put himself through University by working at Lake Louise Chateau and Jasper Park Lodge working his way up from pot washer to Captain Waiter. After a brief pit stop in Montreal, his money ran out and Tom decided to try his luck in sunny Victoria. And so Tom began his journey into the culinary fabric of Victoria.

Twist located at 1218 Wharf Street was his first venture into the restaurant world.  Unfortunately, he was only there for a year, but ever vigilant, he bounced back and was hired as the Manager, of Burgundy's Restaurant. It was here that a he met his wife Sandy who used to come into the restaurant after work with her friends.

 In 1989 he came home to announce," I bought a café! "

Café Giovannini was located at 103-506 Fort Street and was operated by Sandra and Paula.  Espresso distribution was also part of the Café, so Tom would drive the island during the day, selling fabulous espresso and work nights tending bar.  Never one to sit idle, he came home in November 1990 and yet again, announced "I bought a restaurant".  

On February 4th, 1991 the doors were opened to Ferris' Oyster & Burger Bar. With a simple menu of oysters, burgers and sweet potato fries the restaurant gained steady stream of coffee kids and regulars.  In 1992, Tom again returned home and announced, "I bought another restaurant" .

Zombie's Pizza was born at 1219 Wharf Street. A late night pizza by the slice restaurant serving Victorias hungry bar scene.  During the operation of all three restaurants, catering was also taking place. Out of Hand Craft Fair, Pearkes Arena Craft Fair, and smaller events at St. Micheal's University.

Tom had a tremendous amount of help through the years from 100's of fabulous staff who helped shape and create the essence of what Ferris' is today. In 1998, over several glasses of wine, Tom made a partnership proposal to his friend Dave Craggs, this produced a partnership and friendship that led to even bigger and better things. The downstairs menu grew, as did its popularity, so In the fall of 2005, Ferris' Upstairs Seafood & Oyster Bar was born and downstairs was redubbed Ferris' Grill & Garden Patio (creating confusion that still exists today). The upstairs/downstairs venture helped the restaurant grow by leaps and bounds. 

In the winter of 2013, opportunity knocked yet again and Catalano Restaurant & Cicchetti bar in the Magnolia Hotel was conceived. With great effort the business became profitable, garnered a strong local following and received many accolades during its five year run. The hotel had different ideas and a bittersweet deal was made to buy them out of their lease.  In 2014, whilst Catalano was still in it's infancy, the upstairs Oyster Bar got a well-deserved renovation and across from the Oyster Bar….Perro Negro Tapas & Wine was brought to life.  Today All three restaurants continue to thrive

Tom had so many sides outside of restaurant life, his love of trivia, history, his beloved Blue Jays, Maple Leaf's and Raptors, Birkenstocks and of course Pugs!!!  Pug parties became an annual event for a few years, raising donations for pugs that needed a loving home.  Pug parties included Ziggy Stardust and the Pugs from Mars, Robin Hood and Maid Marian, the Pug Wedding and Pugoween to name a few.

Tom had a love of travel and adventure. Tanzania, France, Egypt, England, Ireland, Scotland, Italy, New York, Boston, Chicago, San Francisco, Oregon, Newfoundland, New Brunswick, Montreal were just a few places Tom and Sandra traveled and closer to home, he loved Hornby island.  For 20 years an annual drive and ferry rides during the summer, were made to Hornby with long time friends.

His pug family was so much a part of his home life, with so many animals nursed and cared for over the years; Noggins, Sammy, Walter (Main Man), Julie, Benji, Frieda, Linus, Mandy, Molly as well as five cats along the way.

Tom loved his work, staff, customers and his family; whistling every morning leaving to drive to Ferris' and whistling when he arrived back home no matter how long the day.

Sadly after a very brief battle with cancer Tom passed away in august of 2019. A memorial scholarship fund has been established in his name to support hospitality workers in pursuing post secondary goals.

While success can easily be judged by the prosperity of the businesses Tom created, a better judgement of Tom's success is the thousands of staff and customers alike, upon whose lives Tom has created a lasting impact.

"not too bad for an introvert from Toronto who used to have a terrible stutter as a kid" Tom Ferris 2018

 

Chef & owner Dave Craggs early memories of growing up on Vancouver Island center around center around food; digging for clams, roasting oysters on beach fires, picking shrimp from the docks at Peddar Bay & eating fresh fish from the waters of East Sooke. Dave began his career in Victoria as chef of the seafood focussed Grand Central Cafe, then after a 3 year stint cooking & writing in Montreal, came back to the west coast to work for a fishing resort on the Sunshine Coast. Dave returned to Victoria in 1998 to partner with friend Tom Ferris in what was then known as Ferris' Oyster & Burger Bar. Dave's culinary influences point heavily to the countries of the Mediterranean, in particular Spain, where he travels often. Dave is happiest when eating simply prepared, freshly caught seafood, preferably on a beach with his toes in the sand.