March 29, 2018:
 "Date Night" solved!
Beginning April 7th, we will be offering a specially priced set meal for two in each of our restaurants. From a shared four course pasta dinner for two in the Grill for $49.50, to a nine course tapas tasting menu for two in Perro Negro for $59.50, or a four course dinner for two in the Upstairs Seafood & Oyster Bar for $69.50.
see details below, or visit our menu page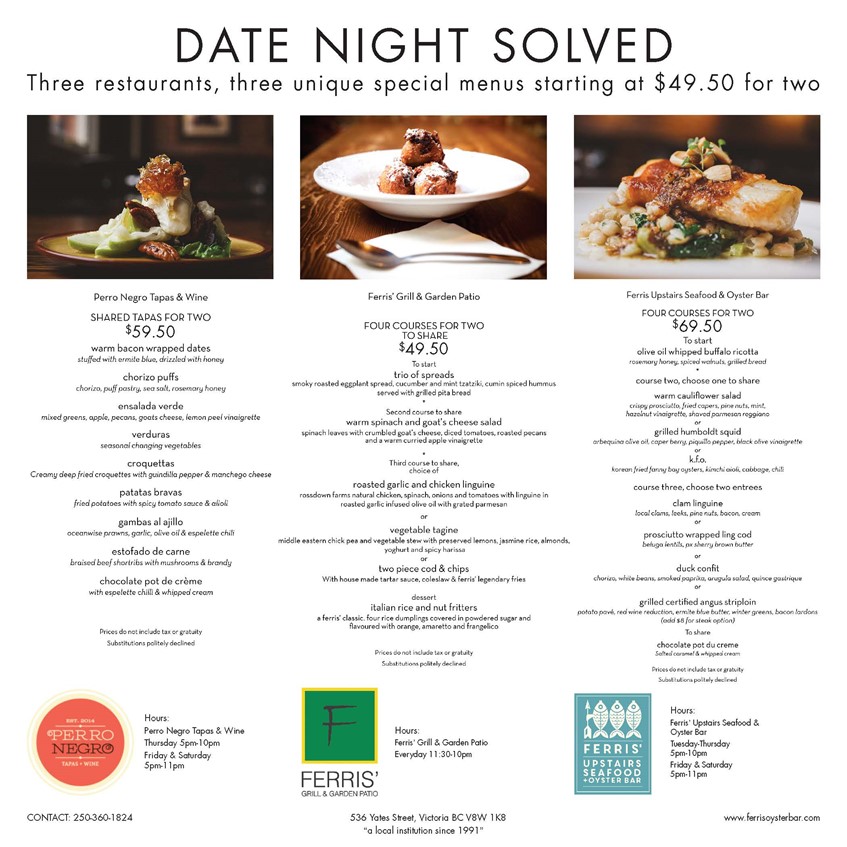 January 1, 2018:
It is with sadness and regret that we announce that we will be closing our Catalano Restaurant and Cicchetti bar as of December 31st 2017. The ownership of the magnolia hotel and spa have decided to perform a major renovation to the restaurant, and upon completion, to then run it themselves.
Over the past five years, we have made many new friends and customers. Along the way, we have earned Where Magazines best new restaurant award, a Trip Advisor award of excellence for each year, garnered international press and have created one of Victoria's best happy hours. In addition, we have turned a so called "cursed" location into a success.
We wish to give our heartfelt thanks to all our staff who have helped make Catalano the success that it is, and to our loyal clientele to whom we are so grateful. You can be sure to see a few familiar Catalano faces at 536 yates street in the new year.
Sincerely,
Tom, Dave, Aaron
Ps: Most people still wonder what the %#@$ a cicchetti is
---